5 Reasons To Try Barbados Crop Over Instead Of Trinidad Carnival
February 25, 2018 - 04:39 PM - 2192views
Just one look at all of these beautiful faces tells you a lot about how different Crop Over in Barbados is from Trinidad Carnival. Look closely. These chicks actually got some sleep! Like, if not a full night, at least five hours and a nap, which is an unheard of in Trinidad. This year I attended my very first Crop Over, and was pleasantly surprised by the differences in what I've experienced in my four years in Trinidad. They both have their benefits for sure, but if you've never done either, here are a few of my reasons to try out Crop Over first:
So, yeah. No shade to Trinidad. Okay maybe a little bit. Trinidad is like the Walmart of the Caribbean when it comes to beaches. So I was pleasantly surprised at how beautiful they are in Barbados! Our crew spent most of our beach days at Dover Beach, near the end of St. Lawrence Gap in Bridgetown. The water was what I call "Photoshop Blue" which means you don't need a filter on your photo because it's perfect in real life. The crowd was a mix of locals and tourists which was great, and there was plenty of local food nearby.
Later in the week I visited Crane Beach, which legit looks like a postcard. While I'd heard of the pink sand in Barbados, I didn't believe it until I actually saw it! You can't tell from far away, but a closer look reveals little pink crystals throughout the sand. If you love beaches and want a "part vacation/part turn up" type of trip, Crop Over is your best bet!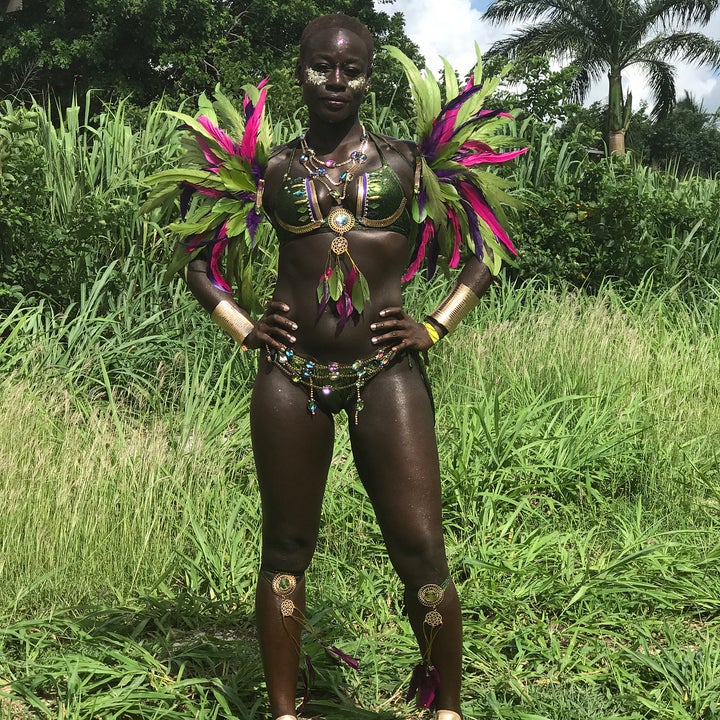 The first time I heard how much a Trinidad Carnival costume costs, I asked if it came with a flight. With costumes ranging from $700 for backline to over $1600 for frontline, you'd think you're out there wearing diamonds and angel feathers in these streets. To be fair, every dime spent on Trinidad Carnival is worth it, but the price tag might make you tear up a little the first time you see it.
That said, Barbados costumes can sometimes be half the price of those in Trinidad. When you're already purchasing a flight and hotel, it's much easier to spring another $400 than it is $800+. We played with Aura and paid significantly less than any band in Trinidad. However, the flights were a bit pricey, so purchase early, and travel on off-peak days if you can.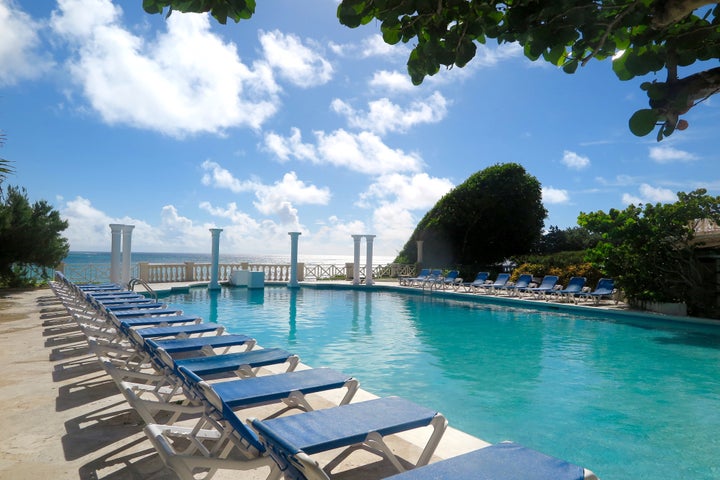 3. The Accommodations Are Better
If you're closet bougie like me (or even shameless 4-star-and-up bougie) you'll appreciate the range of premium accommodations in Barbados. Since my crew rolls deep (like 20+ deep), we tend to opt for condos and apartments at carnival. So we stayed at Sapphire Condos in St. Lawrence Gap for most of the week. I was pleasantly surprised at how nice our apartments were, and spent many nights and mornings enjoying the ocean view from our balcony.
To recuperate from the festivities, I took a trip out to The Crane Hotel afterwards, which is a good 30 minute drive from most of the action in town. The Crane makes Trinidad's highly-coveted Hyatt Hotel look basic at best. There was a calming, serene vibe about the property, which is needed after a week of testing the limits of your hamstrings on strangers in the streets. There's no limbo competition going on at the beach, or twerk-off by the pool as seen at more "lively" Caribbean resorts. Just birds, a breathtaking view, pink sand and sunshine. While I wouldn't recommend this location for a "girls trip", it's the perfect experience for a cool down with a friend, or a mini-baecation after the festivities are over.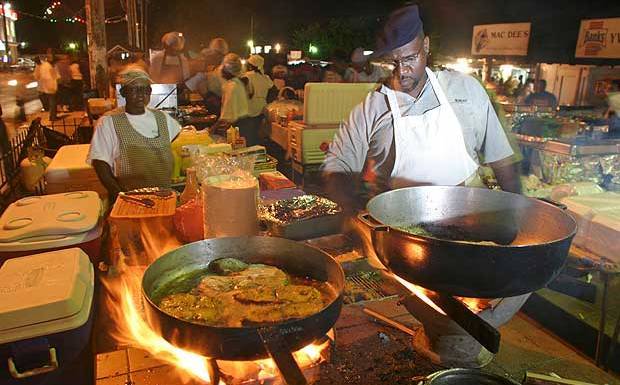 4. There's Plenty To See And Do Outside Carnival
To be fair, Trinidad Carnival is so much fun you don't need to do much besides wine for your life in the streets. That's why you're there. To get your entire life on a stranger covered in paint, powder, glitter, feathers or all of the above. That's technically the case at Crop Over as well, but with the slower pace, you have time to see a bit more of Barbados.
If you're a foodie, everyone recommends Oistin's Fish Fry as a must-do on Fridays (or any day for that matter) for local flying fish and other fresh seafood. Harrison's Cave is a cool option for the adventurous crew, and for your alcoholic homies, the Mount Gay Distillery apparently leaves you so lit you don't remember the tour.
My suggestion is to leave space in your schedule to experience at least one or two attractions in Barbados. With Crop Over and tourist attractions in one, it's a two-for one vacation!
5. You'll Survive In One Piece
Every year my crew returns home from Trinidad Carnival with a medley of unexplained injuries. Whether it's a toenail malfunction, costume lacerations, or pulled muscles from climbing moving vehicles, it goes without saying that it gets a bit crazy in TNT. I've even heard of professional football players calling it quits after a few days because they just didn't have the endurance to handle it.
If that makes you remotely nervous, consider Crop Over as your introduction to carnival. If it's your first time, link up with a crew like Carnival Jumpers or some other concierge crew that can secure your hotel, party tickets and in-town transportation. Whether you choose to be a masquerader in the parade, or just fete and chill on the beach all week, the Crop Over experience should be on your list to try at least once!
Comments(0)